Irresistibly Chewy Chocolate Chip
Oh Yeah! Chewy Chocolate Chip Cookie

If you looking for the best thick and chewy chocolate chip cookies, give this recipe a try!

Soft, not greasy, not cakey, and most importantly have tons of chocolate chips!  

Family and friends love these and hope you love them too.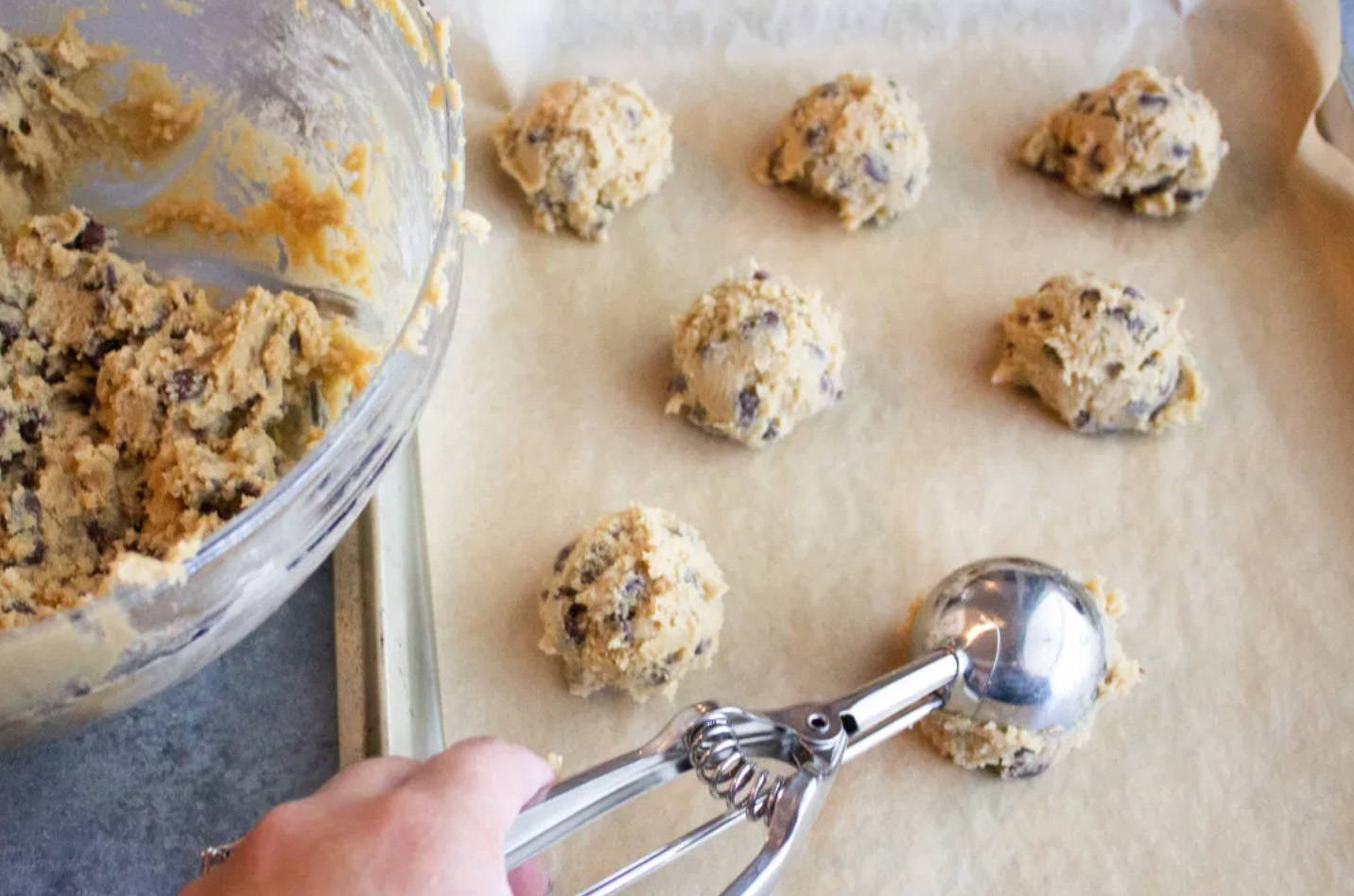 While deciding on a recipe for my first blog post, I needed to find something universally comforting, simple, and that had the ability to show our audience that we are about much more than just making barbecue sauce.
Cooking always brings me to a place of comfort. My mother refers to it as "my element." For me, it's much more than that. Every time I'm in the
kitchen I escape to a world where it's only me, the food, and my tools. everything else becomes background noise. It's like I'm there, but I'm not at the same time. I had an interest in cooking since my late teens, and one of my first jobs was in the bakery department of a New York City supermarket called The Food Emporium. This was in the early '90s and little did I know at the time that some 22 odd years later I would end up cooking professionally.
So, lets get back to "the element." Part of the joy that came from cooking were the reactions of the guests or people I was entertaining. Later on, I would learn that this is what many chefs refer to as "the passion." My passion became even greater and more special after my first son entered the world. As a toddler of about three or four years old, he would show interest and help me in the kitchen. This chocolate chip cookie recipe was the first thing we made together from start to finish (yes, even before our signature barbecue sauce was created). The joy of bonding with my son through food and cooking was immeasurable. Mixing and baking these cookies filled our kitchen with that unmistakably warm aroma that invokes a sense of family, togetherness, and comfort.
Now, there are hundreds, if not thousands of chocolate chip cookies out there, so we won't claim this one is "the best," but it's the best one for us. It was pieced together from several different recipes and is pretty basic. However, adjusting quantities through every trial had brought us to this result that we are sharing with you. These cookies stay chewy even after several days, and the key factors are the additional egg yolks, the use of only brown sugar, the cornstarch, and the combination of butter and shortening.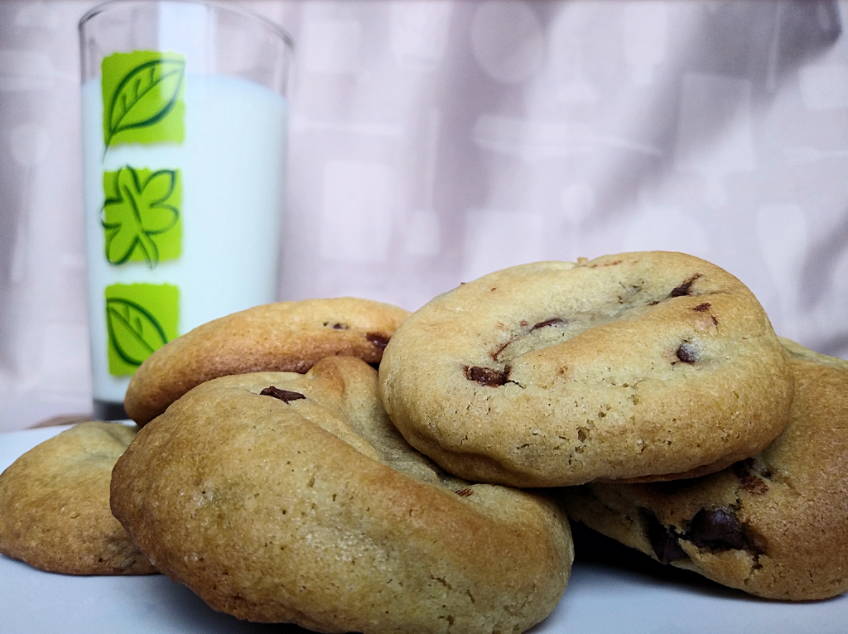 My first son is a teenager now, and has since "outgrown" a lot of things; but not the cookies!
He's enjoys every batch just like the first. He now has a little brother who's two, and is now having his own turn at the mixing bowl with Dad...same recipe!
We may be generations apart in age, but when we sit at the table eating warm, chewy cookies and drinking ice cold milk, all three of us are little boys.
4 cups all-purpose flour
⅛ cup cornstarch
1 teaspoon baking soda
1 teaspoon salt
1 ½ sticks (6 oz.) unsalted butter, softened
⅓ cup vegetable shortening
2 cups packed brown sugar
1 tablespoon vanilla extract
2 eggs
2 egg yolks
4 cups semisweet chocolate chips
The recipe will yield enough dough to make about 24 cookies using a #20 scoop (1.6 fl oz). The bake time is based on this size cookie so you will need to adjust your bake time up or down size accordingly.
Pre-heat your oven to 350˚F
Sift together the flour, cornstarch, baking soda, & salt into a bowl and set aside. Beat together the eggs, yolks, and vanilla extract and set aside.
Using a stand mixer with the paddle attachment, beat (cream) the butter, shortening, and sugar on medium to high until fluffy and airy. Once fluffy, reduce the speed and add the egg mixture. Mix until well incorporated.
With the mixer on low, add the dry ingredients a cup at a time while periodically turning off the mixer to scrape down the sides of the bowl with a rubber spatula. Stop right when there are no more traces of flour or white specks to prevent the dough being overworked. The dough should seem somewhat "greasy" and come away from the bowl easily. Remove the paddle and scrape off excess dough.
Using a wooden spoon or rubber spatula, fold in the chips by hand. Using the mixer will damage or bruise the chips.
For best results, refrigerate the mixed dough before baking for at least 2-4 hours. If you do not have a cookie scoop, I like to divide by weight and make "logs" to be wrapped in plastic wrap. For the size cookies in the recipe, 12 will fit (3 x 4) on a standard ½ sheet baking pan (18" x 13"). Be sure to line your baking sheets with parchment paper or a silicone baking mat. Once dough is chilled, make the dough "discs" so that they are taller than they are wide, almost like cylinders; they will spread slightly while baking but still be rather thick, which contributes to the chewiness.
Bake for a total of 8 minutes, taking time to rotate halfway through.
Carefully remove the baked cookies with a thin spatula onto a cooling rack or a room temperature baking sheet lined with parchment paper to stop the cookies from baking further. Avoid touching the tops of the cookies as they will be soft and can be easily dented.

Please leave a comment, subscribe if you haven't already, and most importantly we hope you enjoy our recipes!
Raised in The Bronx and proud to be Puerto Rican, Luis Rivera, Founder and Head Chef of Father and Son's Kitchen, or those that know him - "BBQ Lou," recreates some of the tastiest foods by adding a new twist to traditional favorites.
"There's nothing like the feeling of serving great-tasting food to family and friends. This sense of reward inspires me to craft traditional and new BBQ sauce flavors found in the smoky, delicious plates we love to eat."